Shortly after midnight on Dec. 17 last year, congressional leaders met behind closed doors at the U.S. Capitol to negotiate an 11th-hour budget deal that would prevent a government shutdown. What became clear by sunrise was that the deal also included the RURAL Act, a simple one-page bill that would protect the tax-exempt status of electric cooperatives.
"It was really touch-and-go until the last minute," says NRECA's Paul Gutierrez, who led the two-year lobbying effort to address the issue. "The overwhelming emotion I felt was relief, for our team and for our members. We weren't going to have to go into 2020 with this hanging over our heads."
Some co-ops were facing the prospect of paying income taxes because of a provision in the 2017 Tax Cuts and Jobs Act that redefined government grants as income. Any co-op that received such grants to restore service after storms or to bring broadband service to their communities risked losing their tax-exempt status by exceeding the 15% federal limit on non-member income. The RURAL Act's passage fixed that.
'All-in' in Oregon

Oregon Rural Electric Cooperation Association, Ruralite Magazine, November 2019
Oregon's co-ops, battered by heavy winter storms in 2019 that knocked out power for thousands, were among those facing the loss of tax-exempt status because they received disaster relief grants from the Federal Emergency Management Agency.

The co-ops and statewide association lobbied hard for Oregon Sen. Ron Wyden's support for the bill, sending hundreds of emails, writing letters to the editors of local newspapers, and pitching interviews to Oregon television stations. Winning Wyden's support was crucial because he's the senior Democrat on the Senate Finance Committee, which has jurisdiction over tax bills. He also ended up being one of the lawmakers in that all-important Dec. 17 deal-making session, along with Sen. Rob Portman, R-Ohio. Portman and Minnesota Democrat Tina Smith were the lead sponsors championing the RURAL Act in the Senate.
Just two days before that gathering, Ted Case, executive director of the Oregon Rural Electric Cooperative Association, attended one of Wyden's town hall sessions in the state and presented him with a copy of the association's magazine with the senator's photo on the cover.
"The text said, 'Senator Ron Wyden is in a key position to help electric cooperatives. We're counting on him,'" Case recalls. "That made an impression on him as a supporter of rural Oregon. The next day his staff called me and said that Senator Wyden had spoken up for us behind closed doors, and the RURAL Act would be in the bill.
"If you're going to lobby for something, you've got to go all-in."
Building a bipartisan base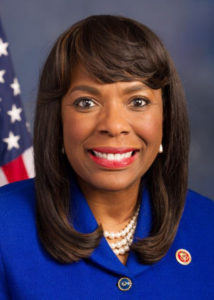 Rep. Terri Sewell
Gutierrez says the lobbying effort began in 2018, even before there was a bill to support. As electric cooperatives began preparing the Form 990s that tax-exempt organizations must send to the Internal Revenue Service (IRS), a tax consultant working with Otsego Electric Cooperative in Hartwick, New York, discovered the problem buried in the 185-page tax bill, which had been rushed through Congress in the final days of 2017.
The discovery triggered NRECA discussions with the IRS and concurrent meetings with House Ways and Means and Senate Finance Committee staff and member offices. When the IRS ruled that there would need to be a legislative fix, Gutierrez identified members of Congress who'd expressed concern about the issue and might be willing to introduce legislation to correct it.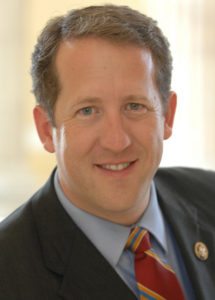 Rep. Adrian Smith
Republicans still held the House majority in 2018, and Rep. Adrian Smith, R-Neb., jumped on the bill immediately as lead GOP sponsor. A short time later, Gutierrez attended a lunch with Rep. Terri Sewell, D-Ala., who said she worked well with Smith on rural issues and wanted to be the lead Democratic sponsor.
Minnesota cooperatives reached out to Sen. Smith to explain their dilemma, bringing her on board. At the same time, NRECA lobbyists contacted a staff member in Portman's office who had helped co-ops before, and the Ohio senator soon agreed to introduce legislation in that chamber.
It took several drafts of the bill and a lot of negotiations to get it right, Gutierrez says.
"We wanted to avoid having to go back to Congress again to make additional legislative fixes," he says.
The process was complicated by the 2018 election season, which made it difficult to get any bills passed in the second half of the year. As a result of that election, the House flipped from Republican to Democratic control and more than 100 new members of Congress were about to start their jobs at the beginning of 2019.
'A problem for real people'

That's when intense lobbying and advocacy efforts by co-ops and NRECA began, says Louis Finkel, NRECA's senior vice president of government relations.
"What got done in the end was really driven by what we did starting at the beginning [of 2019]," he says. "Before we began lobbying on the RURAL Act, we were meeting with more than 100 new members of the House and Senate in 'Co-op 101' sessions to explain what co-ops are—that we are not for profit and that we serve the communities where we live. Those conversations were the precursor to passing the bill."